News Archive
Sep 26th, 2023 - September Chapter Meeting - MOSAIC
Rick Henry teamed with the Alaska Airmen's Association and Adam White, their Government and Legislative Affairs Advocate, to present information about MOSAIC, discuss the proposed rule and show how to comment on it. 16 attended in person and 13 online.
Thank you to Adam and The Airmen's Association for co-hosting this and allowing us use of their facility!
In case you missed it, the slideshow as well as many other associated links are available here: MOSAIC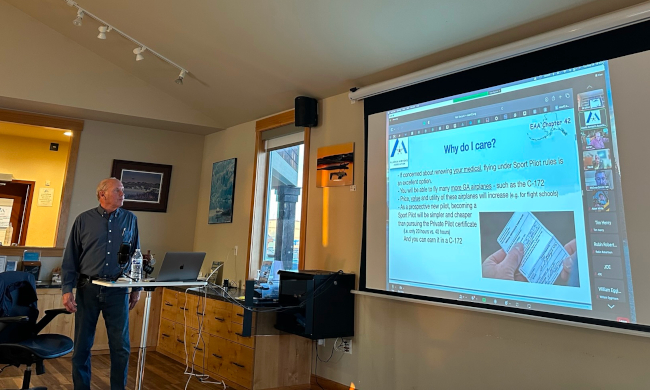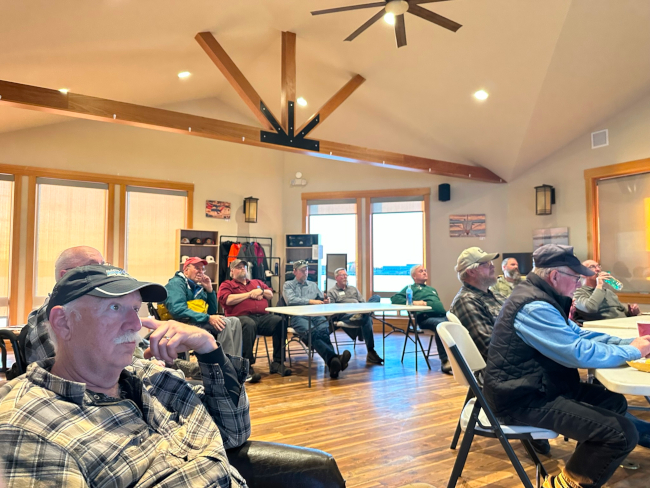 Aug 22nd, 2023 - August Meeting - Mike Olivieri's
Mike Olivieri showed us his unique "Thunderbird One" that he designed and built.
Photos by David Baldwin

Check out Mike's YouTube video of it:
Mike's Thunderbird One video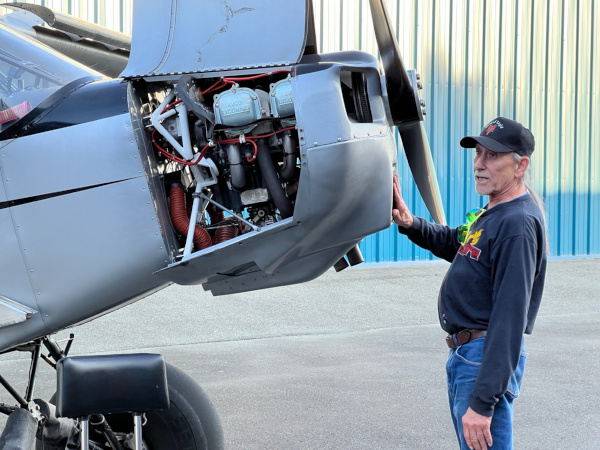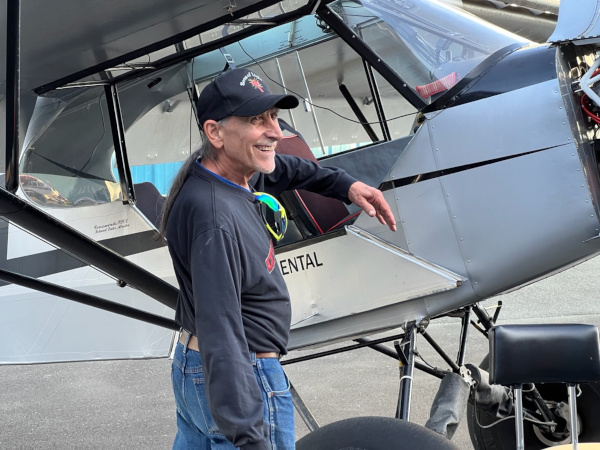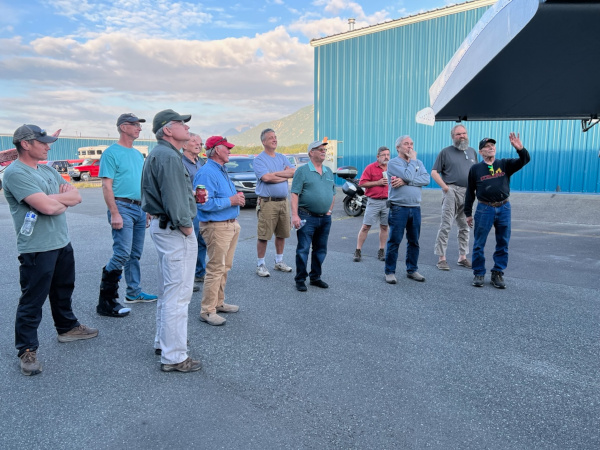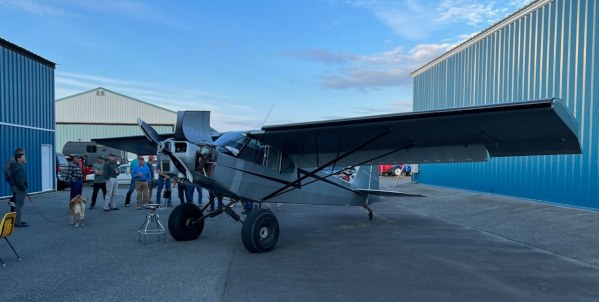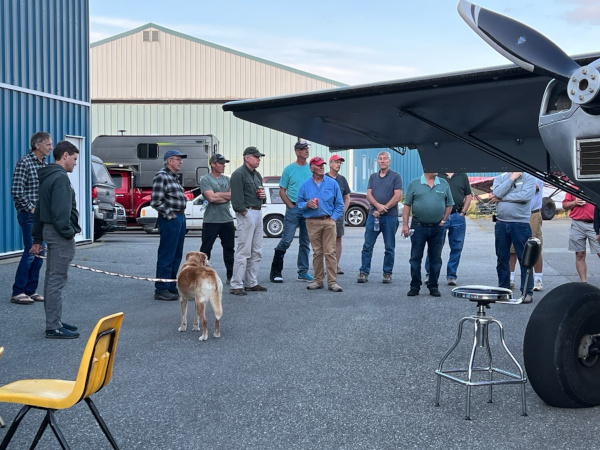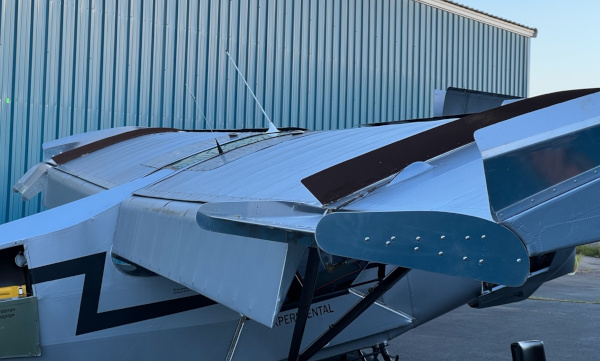 Aug 12th, 2023 - Young Eagles Rally
The Chapter working with The Alaska Airmen's Association and UAA had an excellent Young Eagles Day Rally event flying 31 Young Eagles on Saturday, August 12, 2023.
A huge Thank You must go to our Youth Activities Coordinator and VP Scott McEwen and his wife Patrice as well as our ground assistant volunteers: David Baldwin Cliff Belleau, Mark Frischkorn, Sara Maurer and Tom Lawhorn.
Today's pilots were: Al George, Jim Moss, Burke Wick and Rick Henry.
Lots of smiles and "Awesome!" reactions from the kids as they were introduced to flying.
Thanks to all that made this event happen!
See the full page here or click on the image below: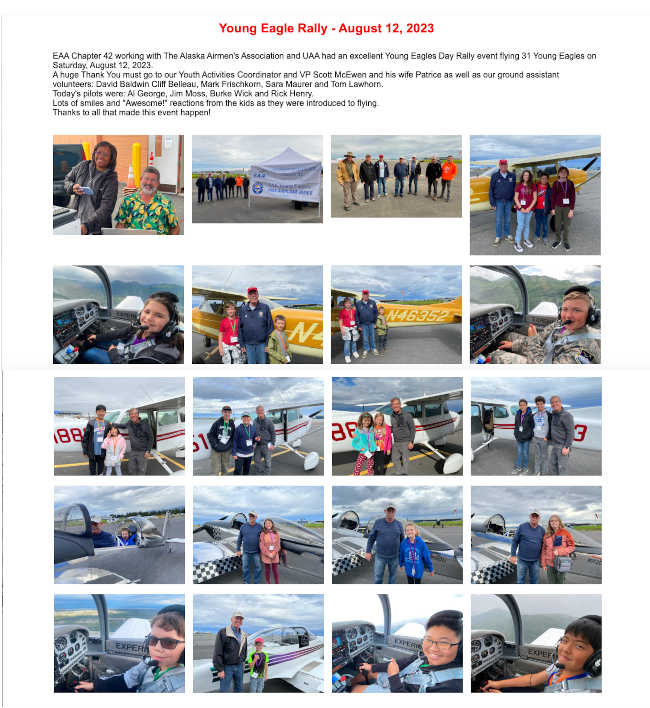 Jul 27th, 2023 - Walter Yankauskas
I am saddened to inform the Chapter that on July 15th Walter Yankauskas suffered a stroke, but tonight I talked to his wife Rande Lucas and she said he's currently in rehab at St. Elias Specialty Hospital in Anchorage. He can talk, but tires quite easily - his rehab sessions take up much of his day. Well-wishes can be sent to his email at: walteryak@gmail.com. If you wish to send him a get well card you could send that to him at 17041 Jacqueline Cir., Anchorage, 99516. As I receive any updates from his wife Rande, I will forward them to the group.
Update 8/1: Walter called me tonight and is sounding good! He is now able to have a single visitor after 4 pm, but please check with his wife Rande Lucas at 907-350-7820 to coordinate a potential visit.
Update 8/3: I visited Walter and I think he enjoyed the company.
Get well soon Walter!
Rick Henry
Jun 30th, 2023 - Young Eagles and The Boys & Girls Club of Alaska
EAA Chapter 42 flew 13 Young Eagles today from the Boys and Girls Club of Alaska. Good weather and lots of smiles!
Thank you to the ground support team of: Scott McEwen, Chris Gill, Tom Lawhorn, David Baldwin, Al George and Sandra Melin. The pilots were Edwin White, Wally Parks and Rick Henry.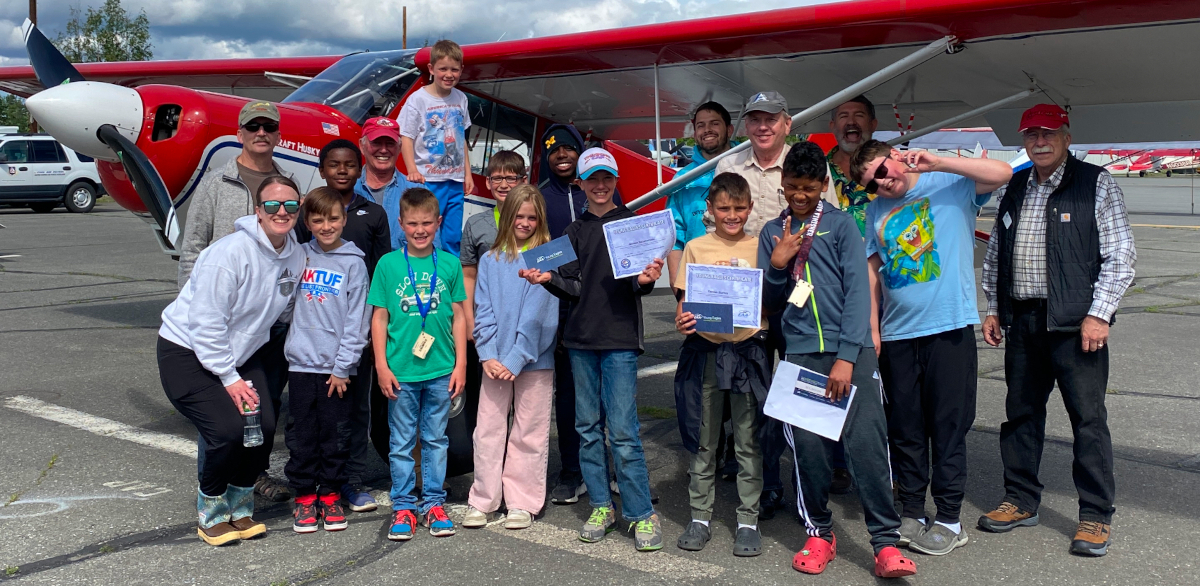 Jun 27th, 2023 - Chapter BBQ at Bernie's
We had a good crowd, decent weather, and awesome food!
Thank you Bernie & Jeannette for hosting us!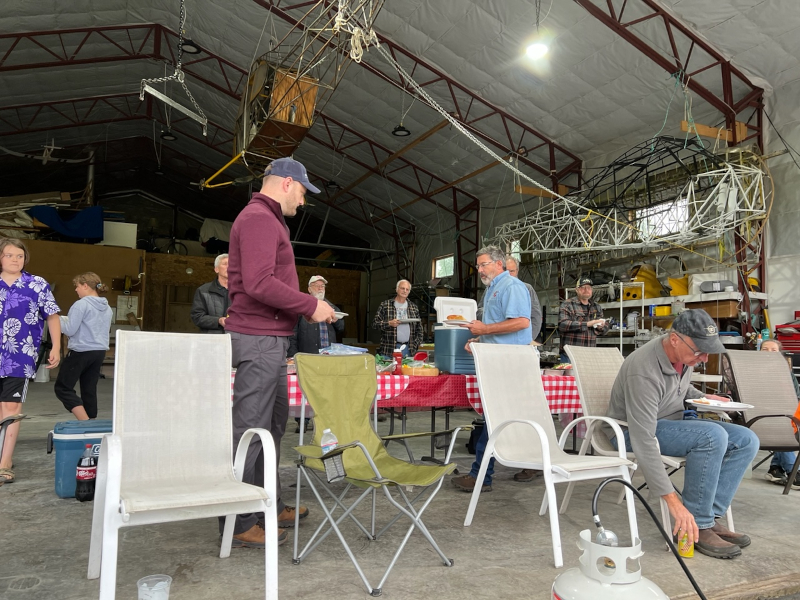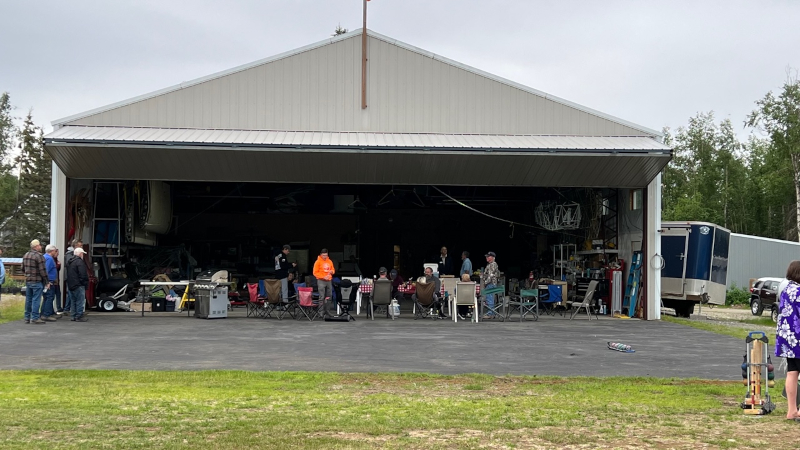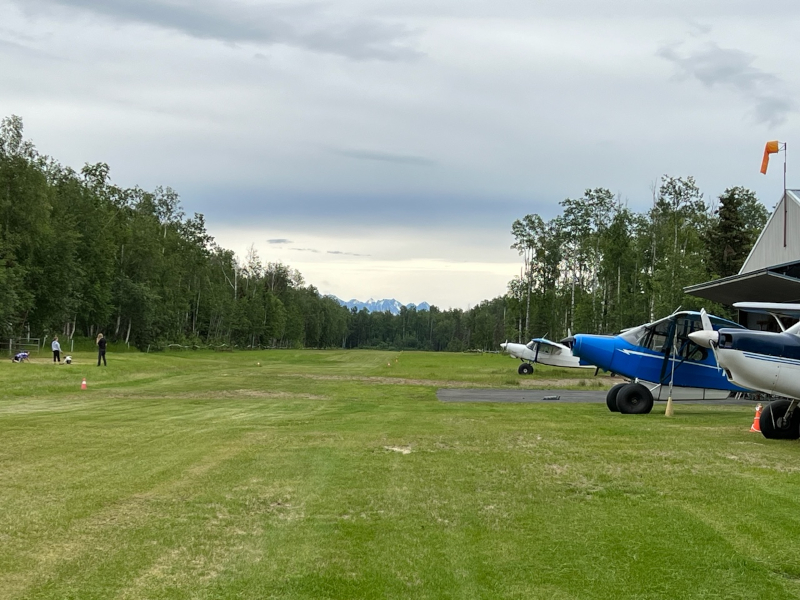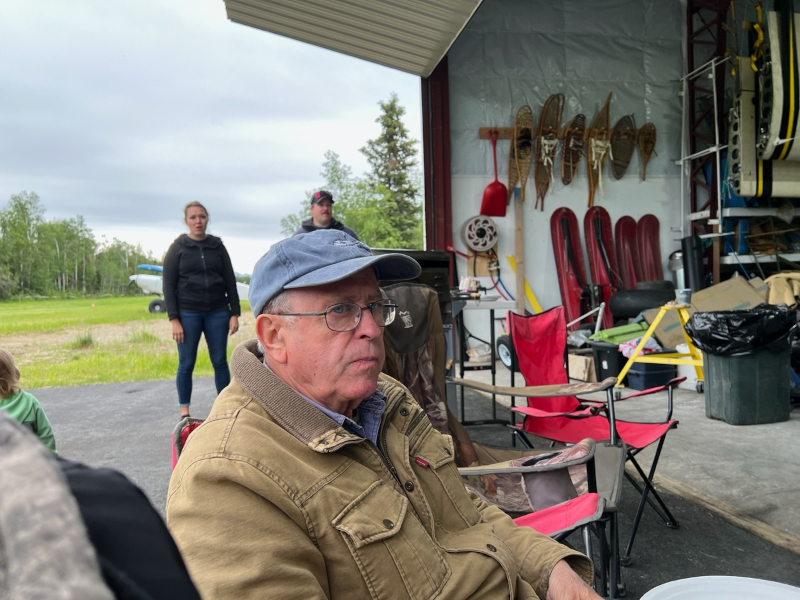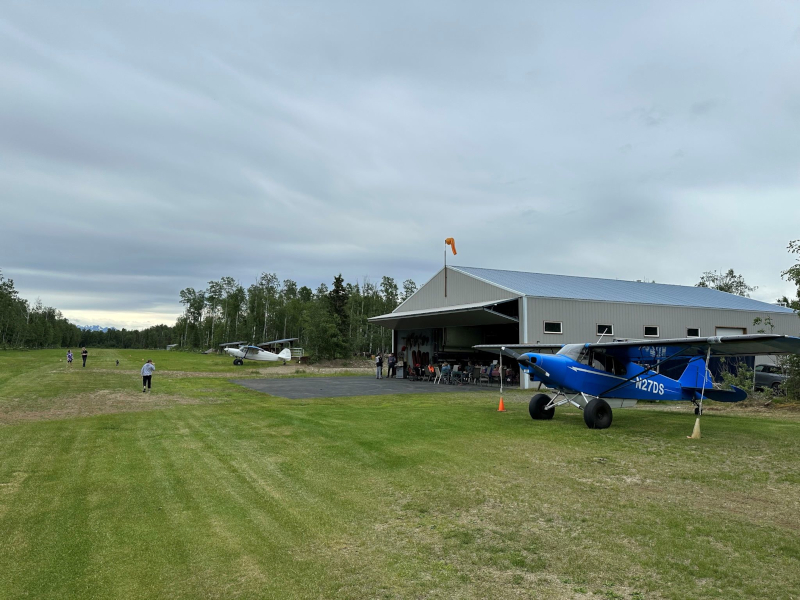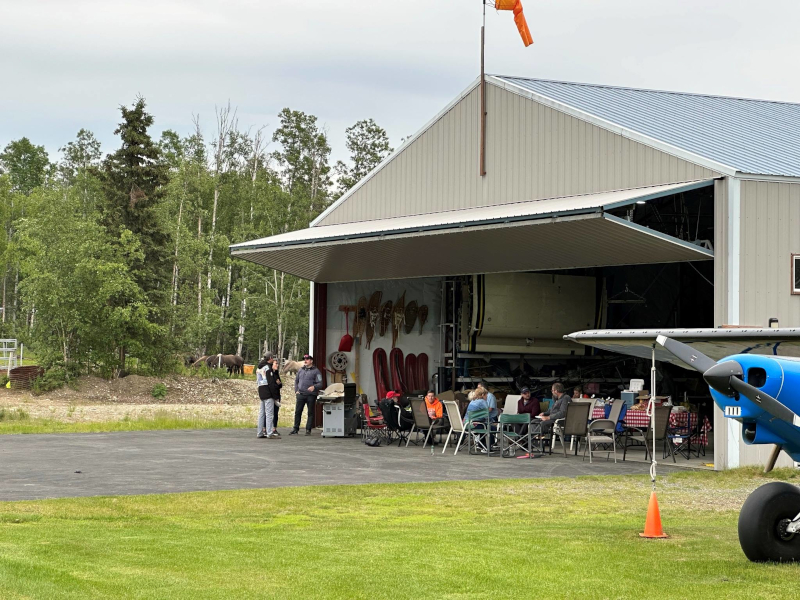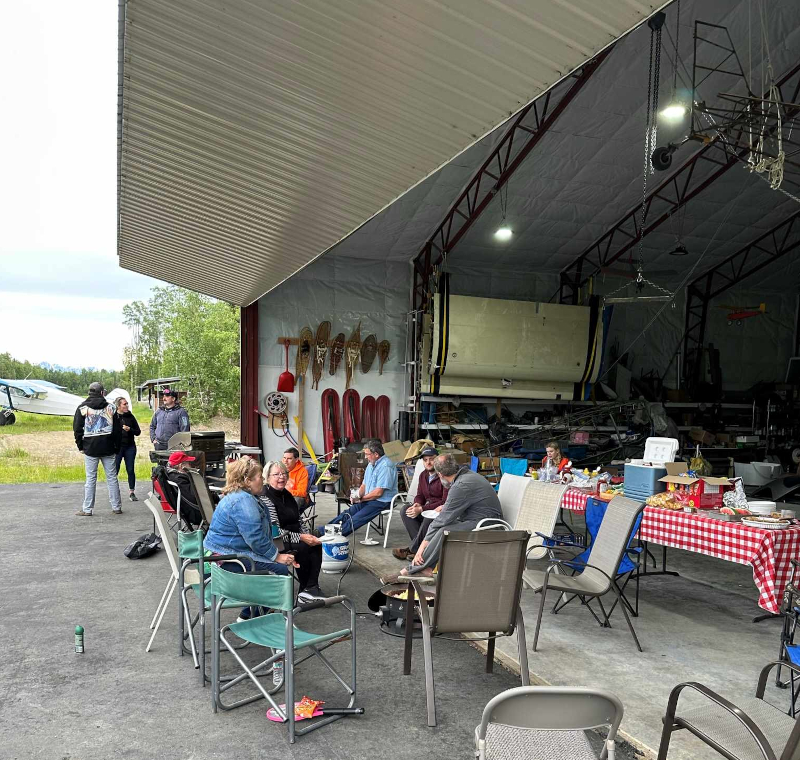 May 23rd, 2023 - Helio Alaska visit
18 of us "drank from the firehose" at the May Chapter meeting. Abe Harman, our outstanding host, is co-founder of Helio Alaska Helio Alaska, based at Birchwood Airport. Abe and colleague, Lukas Stutzer, formed this new, small company in 2019 and acquired Type Certificate 1A8, previously held by Helio Aircraft LLC in Prescott, AZ. Abe and Lukas are well on their way to restart production of the Courier.

Abe shared details of the Helio past & present, and the current market. His plan is to make both experimental and certified versions of the Courier. He is clearly equipped with the knowledge, skills, tooling, jigs, etc. for the task!


He explained new components that will be incorporated into the and their advantages. His well-tooled shop is up for the task of making all the parts required. He discussed the details of his manufacturing processes, from annealing to forming to heat-treating; old stamp dies to new dies and a 150-ton press for stamping ribs, etc.; skin panel cutting/drilling with his CNC router; milling on the CNC mill; jigs for welding the frame, assembling the tail cone, etc.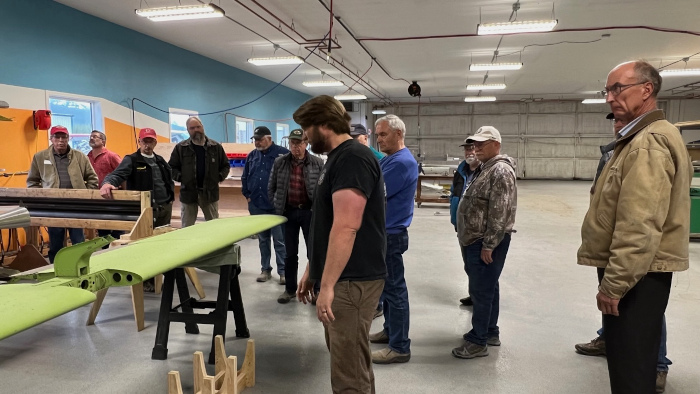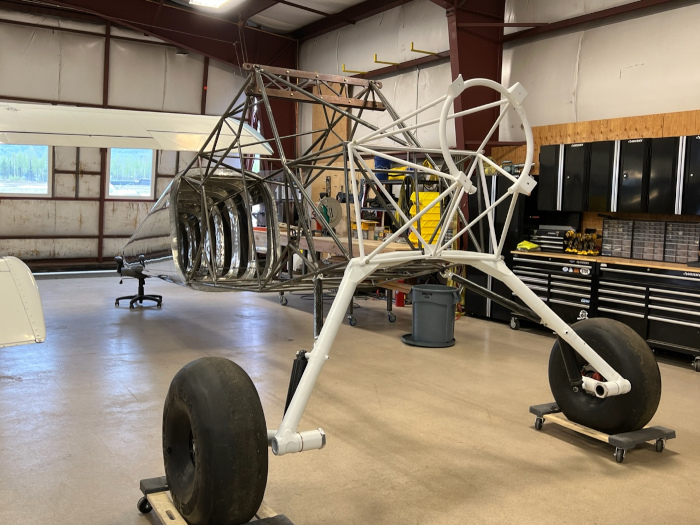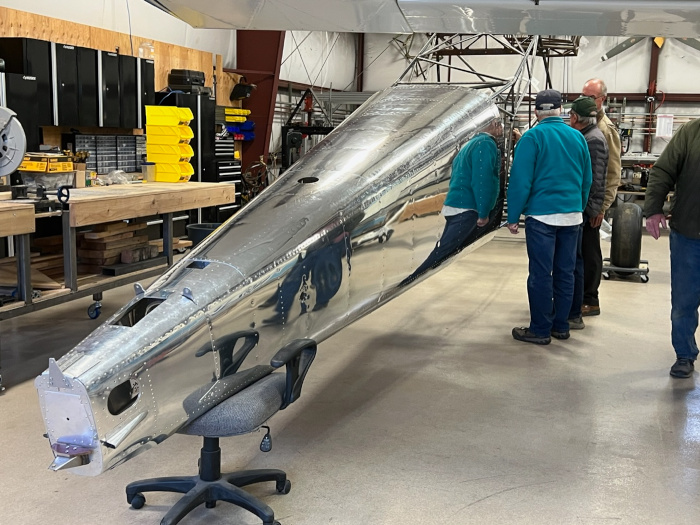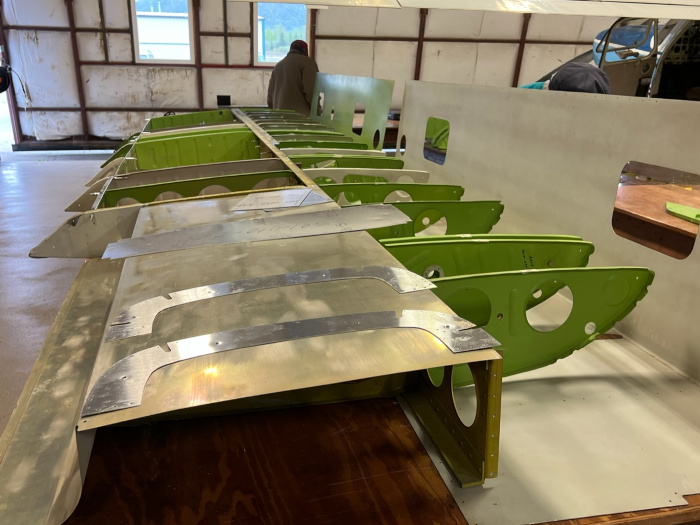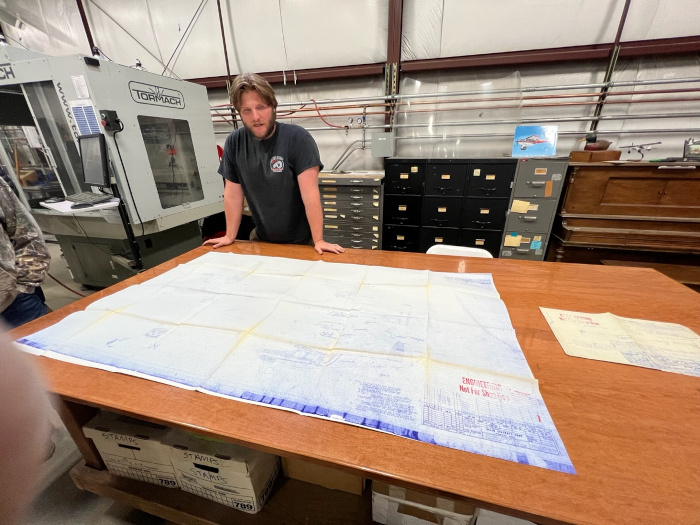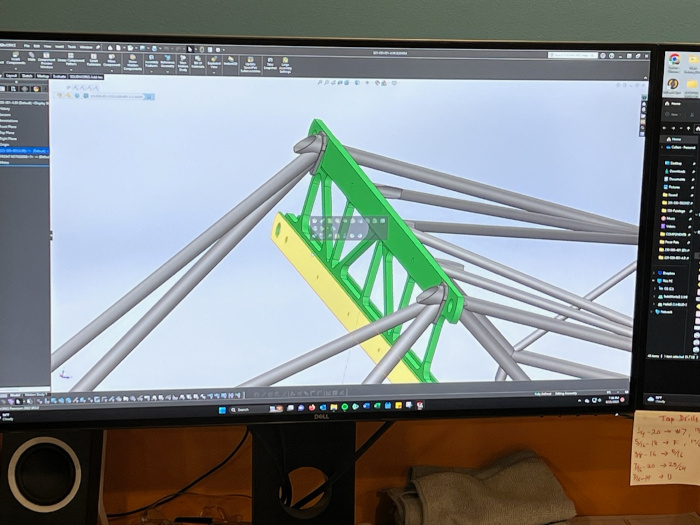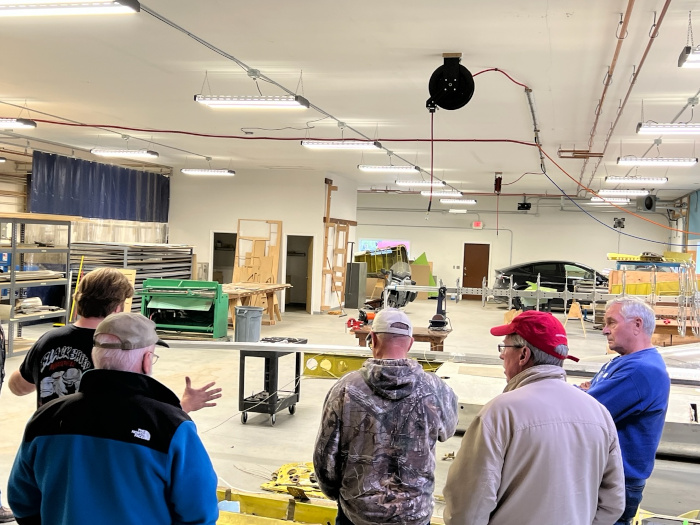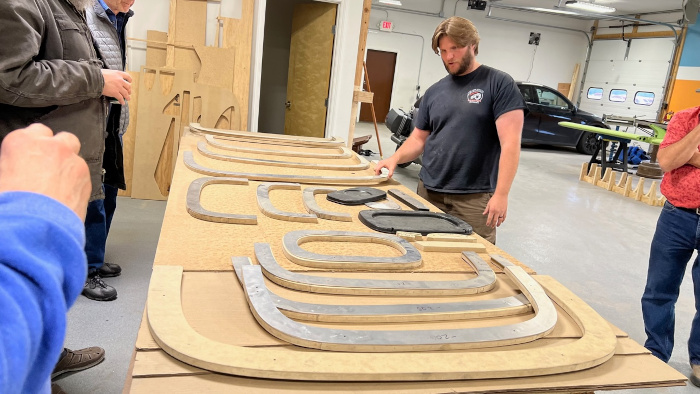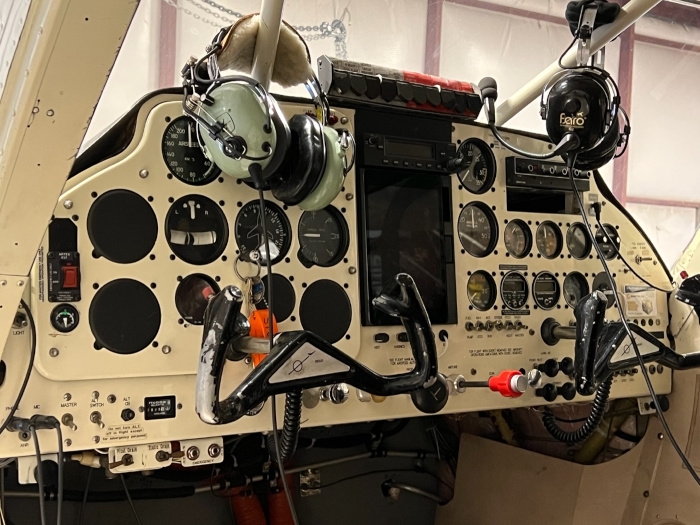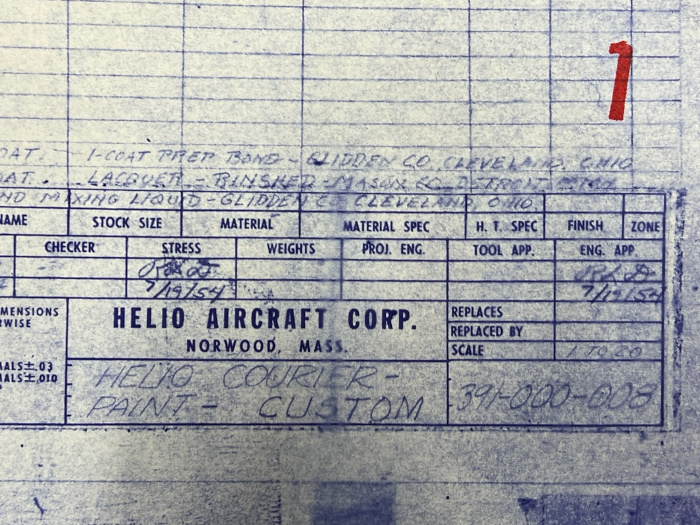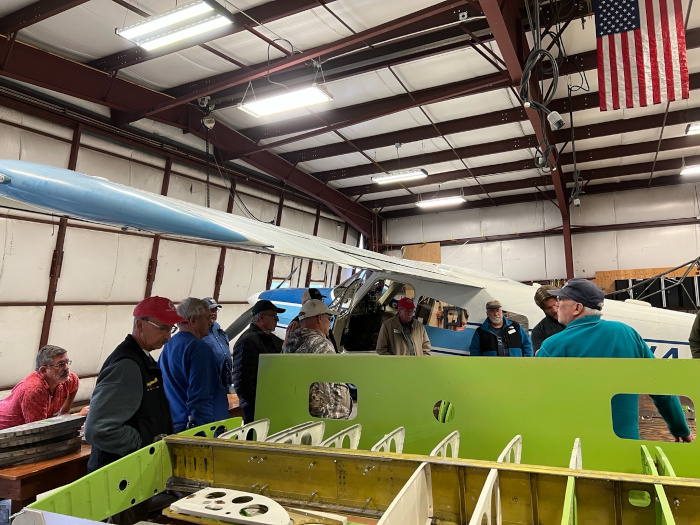 May 19th, 2023 - Tom's GlaStar Electrical System and Avionics Power-up
Tom Lawhorn had a successful first power-up of his GlaStar's electrical system and avionics after we finished some of the final connections. Congratulations Tom!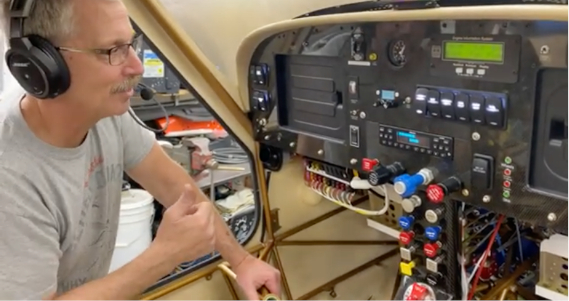 May 13th, 2023 - May Events: Airmen's Gathering and Chapter Breakfast
The Chapter's participation at the 2023 Great Alaska Airmen's Gathering (Sat/Sun, May 6-7) was a great success. Chad Hansen, Tom Lawhorn, Ed White, Mark Frischkorn, Wes Erb, Al George, and Scott McEwen staffed 7 hands-on youth aviation stations, along with two dozen other great volunteers. We reached between 200 and 350 kids over the weekend.
8 of us had a marvelous time at Saturday's Chapter Breakfast (May 13) at Kava's: Chuck, Claude, Cliff, Dan & Vickie, Rick, Tom, & Scott. The stories flew, the laughter rolled, the knowledge increased, the breakfast filled. See ya'll soon!
Apr 25th, 2023 - April meeting
Mark Barker, along with friends Scott & Susan Selzer, hosted Chapter 42 for a marvelous meeting. We were joined by Robbie Culver, newsletter editor for EAA Chapter 461, Bolingbrook, IL. Check out Robbie's article on Blakesburg at Robbie Culver's article. During introductions, Scott Selzer, shared about the EAA International Aerobatic Club (IAC) Chapter 135 that he and Mark created in Anchorage; Chapter 135 hopes to gain momentum as other aerobatic pilots join the ranks. The Selzers are our newest Chapter 42 members.

Mark gave a wonderful talk about the latest FAA airworthiness certification (AWC) process. He explained that he and Rod Russell are the only two DARs in Alaska for experimental homebuilts. He shared the benefits of the new on-line application process, minimizing errors that cause rejections. He discussed the importance of applying for the AWC right after obtaining the aircraft registration, due to FAA's current processing backlog of 9 months. He explained the efficiencies of using 3rd party vendors in OKC for filing the app, even though anyone can file directly. He explained the process to create the required operating limitations and flight test plan, and referenced a great series of articles in KitPlanes magazine on flight testing KitPlanes Flight Testing, as well as FAA advisory circular 20-27G, Certification and Operation of Amateur-Built Aircraft" AC 20-27G.

Then, Mark and Scott provided a wonderful tour of the fabulous aircraft and vehicles in their leased hangar. Beauties included a EAA grand champion 1929 Travel Air D4D with Wright Whirlwind engine (restored by Rick Hansen), 1951 Hiller 12B helicopter, C152, Long EZ, two Christen Eagles (one, formerly Bill Gordon's of the Iron Eagle Aerobatic Team), a BD5-J on a shelf, some wicked swift racing go-carts (one homebuilt by Rod Russell), a top fuel dragster, and even more, actually! On top of all that, was the coolest homebuilt tailwheel trainer! What a night!

Many thanks to Mark and Scott for hosting a great evening. Even more thanks to baker-extraordinaire, Susan, for delicious cookies and aviation tails of her own!