Past Events - 2007
January 1st 2007 - Monday
Congratulations to Rick Henry
January 3rd 2007 - Wednesday 7:00 PM
Board Meeting
January 23rd 2007 - Tuesday 7:00 PM
Chapter Meeting
Where: Aero Recip
Location: Aero Recip Alaska (243-3133)
They are located near the southwest end of Lake Hood at 4451 Aircraft Dr #B
Our own Shannon Gearry works for the company and was on hand to give us the scoop on what they do. They overhaul light plane piston engines, mainly for Part 135 operators.
It was fascinating. There was a monorail hanging off of the ceiling. Engines are hung from the monorail so that they can be moved around the shop, and you can sweep the floor underneath them. The place was amazingly clean and well organized. Those of us with only one project could barely comprehend how you could have that many engines in various states of repair AND have it so organized.
We got the full tour, from the running cut-away engine to accessory bench, cylinder area, non-destructive testing, all the way out to the test cell.
These guys are good and really care about what they do. I spent over 45 minutes at the cylinder area, learning about testing and honing cylinders. Be sure to do a compression check on the engine before you remove a cylinder for refurbishment. When you compare the compression checks on and off the engine, you'll know whether it's the rings or the valves... In 45 minutes of talking, it was always "my cylinder". They weren't working on someone else's stuff. It was "I won't let my cylinder out the door unless it's right!".
Our thanks to Shannon and all the great people at Aero Recip who stayed at work on a cold, dark Tuesday to show us their business and share their knowledge with us.
Sunset at 16:44
February 18th 2007 - Sunday
Capstone News
Capstone News
Latest Capstone news from the Alaska Journal of Commerce as of Feb 18th.
   FAA Dec 22 Fact Sheet about Capstone
I take exception with the news about Capstone on the web site, but don't know how to address my questions in regards to this. FAA officials in Washington could not tell me how many GBT (Ground Based Transceivers) were active in Alaska, and how this "transition" would affect personal, and the office. They did say that there would be a special MOA with the Industry Council but would not specify what it would cover as far as input for what pilots and the flying public could have. Therefore I question some details of the FAA release as not credible according to previous information.

Alaska Journal of Commerce Capstone Story

Rob Stapleton
Sunset at 17:56
February 27th 2007 - Tuesday 7:00 PM
Chapter Meeting
Where: Anchorage Center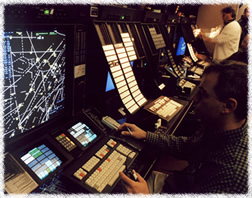 Thanks to Chuck May, we got a tour of Anchorage Center, the Air Route Traffic Control Center (ARTCC).
We don't have any pictures because the rent-a-guard at the shack outside said that according to the TSA, out of Washington D.C., Alaskan pilots were not allowed to bring cameras into the Center because of "security".
In the Anchorage area, Center handles the high flight level traffic and hands it off to Approach. In the Sout-East, they handle IFR traffic down to the ground. We got the full Power Point breifing, and there must have been 50 acronyms for trans-oceanic and polar routes that most of us were not familiar with at all.
Their guess was that General Aviation was about 16 to 18 percent of their total traffic. I was surprised. I wouldn't have thought that it was that high. Center coordinates with Canada, Russia and Japan, and Oakland. The percentage of flights that get passed by computer is increasing, but they do spend a lot of time on the phone.
There was a rocket on a ten minute hold up at Poker Flats. They were keeping everyone away from that area. They said that they were disappointed because they could never see the rocket! Appparently the tower controllers at Fairbanks are the only ones from Air Traffic Control that actually get to see the rockets go up.
I had been to the Center 10 years ago. I didn't recognize anything except for the "paper strips" that they use as a backup in case all the radar and computers go down. It was brighter. No one was staring at a 19 inch in diameter cathode ray tube. Lots of flat panel displays.
Apparently it gets really interesting when it's busy. You'd be listening to two or more frequencies at once, talking on one. Entering flight information on the computer. Notating changes on the "paper strips", watching the display, keeping separation. Maybe looking up approach plates for a runway in the South-East that you haven't looked at in a couple of months. Accepting and handing off flights as they come and go.
It's more of a physical and mental challenge than being a tower controller, a tough a rewarding job, but they do miss looking out those big windows.
They are proud of their work in safety, noise control and paperwork reduction. (Do you know how much noise two jumbo jets make when they.... and how much paperwork that causes?)
Thanks Chuck!
Sunset at 18:21
March 27th 2007 - Tuesday 7:00 PM
Chapter Meeting - Movie Night
Where: RE/MAX Properties - 110 W 38th, Suite 100
Movie Night.
Sunset at 20:34
April 24th 2007 - Tuesday 7:00 PM
Chapter Meeting
Where: Morris Communications
EAA, Experimental Light Sport Aircraft Registration Meeting
Where: 301 Arctic Slope Ave. Anchorage, (behind Schlotzsky's Deli on Dimond) Look for the signs, the door to the meeting room is on the WEST side of the building.
Who: John Davis, LSA DAR, Dan Billman, DAR, Tom Eldridge, DPE both with the local FSDO
What: Information and kits on how to transition from UL to ELSA
Why: FAA imposed Jan. 31, 2008 deadline for two-place ELSA
EAA Chapter 42 has agreed to make the April 2007 meeting about Sport Pilot information.
This meeting will be an informational workshop to get anyone who wants to register and get their UL air vehicles an airworthiness inspection and transition to the (Experimental) Light Sport Aircraft category.
The deadline is less than a year away to do this and the paperwork will slow down as you get closer to Jan. 2008.
EAA Transition to ELSA kits will be sold at the meeting. These are very helpful and contain all the required forms from the FAA, as well as stickers, and instructions on how to fill out all the forms correctly.
Weight and balance information for an Antares MA-33 R582, as well as the operation limitations and transition paperwork will be on hand for you to take with you.
FAA officials will be on hand to answer questions. Please attend as the deadline for accomplishing this is Jan. 31, 2008.
Don't wait until the last minute, or month to do this as the DAR, John Davis does not do inspections on a regular basis, he also works for JAL. John wants all paperwork complete before he will inspect your aircraft.
Refreshments will be served, and membership information about the Chapter and EAA will be on hand for you to join if you are not already a member. The folks at these meetings are both friendly and helpful and have been a fun group to get to know!
They want to help all of us to get back in the air legally!
See you there. Keep flying!
Sunset at 21:47
May 5th 2007 - Saturday 9:00 AM
Alaska Airmen FedEx Trade Show
Where: FedEx Hangar
Sunset at 22:16
May 11th 2007 - Friday 7:00 PM
Valdez May Day Fly-In & Airshow
Where: Valdez
Valdez May Day Fly-In & Airshow - May 11-13
Thompson Pass looked like this at Noon on Saturday.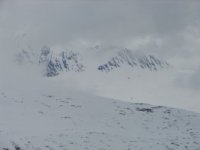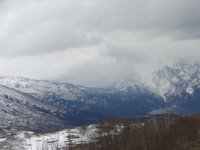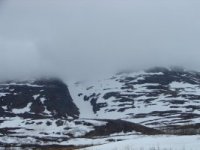 Cub Crafters brought their "Carbon Cub". It's a 220 HP super Cub that weighs 250-300 pounds less than any other Cub. The three pictures here show a 19 foot takeoff! They were also able to do a short field landing of 53 feet!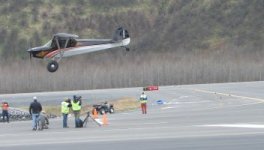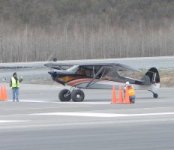 It was a good crowd. There were approximately 110 airplanes on the ramp.
There is a set of 36" bush wheels to the winner of the short field contest in the experimental class.
The Experimental class is creating a lot of attention and the rumor is that there is a special cub being built at several locations with special engines for the competition. The rumor is that ECi is providing an engine for our competition. This rumor not verified. Mike Olson our sponsor for the Experimental Bush class is building a new plane "EXPERIMENTAL" with a new engine and a spare to bring up for the bush class competition.
There is also a good possibility that we will have donated to us a Belly Pod for a cub to be given as one of the prizes for the bush classes of competition. The rules for the competition are published on our website at www.valdezalaska.org in the events folder.
We expect the top planes and pilots from the Northwest to be attending and competing at this years event and the demonstration of piloting and performance of bush planes will be unmatched anywhere in the United States.
Experimental Bush Class competition event with 35" Bush Wheels as the first prize
Bush class competition as before with 31" Bush Wheels as the first prize
Our DVD is on the www.supercub.org web store with a banner on the web page
The DVD "Big Rocks and Long Props" available at Northern Lights Avionics and Supercub.org features a chapter with our Fly In
The Fly In is on Mothers Day weekend with special recognition of Women and Mothers in Aviation. It is the weekend after the Trade Show.
The off airport landing during the Poker run is going to be a River Bar landing on the Copper River this year because of the inappropriate tides for landing on Saturday morning of the Poker Run. Pilots discretion on landing, but will be marked as well as with advisories on approach.
Sunset at 22:32
June 6th 2007 - Wednesday 7:00 PM
Board Meeting
Where: Chuck May's House - 2811 Leeward Pl
Driving directions to Chuck's House..
Take the Seward Hwy South,
exit on Huffman Rd.
Turn East (Left) then turn right on Lake Otis which changes name to Westwind at the first 4 way stop.
The first street after stop is Spinnaker turn left and then left again on "Leeward"
Chucks house is second from the corner, 2811 Leeward Pl.
If you get lost call Chuck at 345-4703.
Our new Chapter Flag

Mike Ice over Anchorage,
or "How to get frostbite
while dead sticking with Photoshop"

Sunset at 23:29
June 16th 2007 - Saturday 11:30 AM
Ten Years to Taxi Celebration
Where: Matt Freeman's hangar at Birchwood Airport
Saturday June 16th - 11:30am to 2pm - "Ten Years to Taxi" Celebration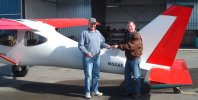 You are all invited to attend our "Ten Years to Taxi" celebration June 16th from 11:30am to 2pm at Matt Freeman's Hangar on the Southeast Apron Road at Birchwood Airport. Follow the Tim Rittal signs. A Barbeque lunch from A.J.'s Rib A-Go-Go will be hosted. See you there!
Tim Rittal's GlaStar N55XP was issued a Special Airworthiness Certificate Apr 23, 2007 by our own John Davis, newly minted DAR. It had it's first flight on Thursday May 3rd. Yahoo!!
Sunset at 23:41
June 18th 2007 - Monday
Visit from EAA Chapter 288
Visit from EAA Chapter 288
Recently Chapter 42 was lucky to have visitors from Chapter 288, out of Spruce Creek Airpark, Florida stop in for a visit.
Our visitors from the south came in some very wonderful and FAST (cruise 240 Knots) aircraft. There were four SX-300's, and one Questair.
The planes and pilots were:
| | | | |
| --- | --- | --- | --- |
|      | SX-300 | N53SX | Keith Phillips |
|   | SX-300 | N350G | Mike Smith |
|   | SX-300 | N58SX | Tuck McAtee |
|   | SX-300 | N53SX | Jim Vitale |
|   | Questair Venture | N94Y | Tony Crawford |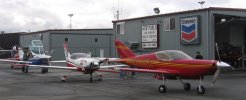 The folks from down south had a wonderful visit. Dick and Carol Reeve hosted a BBQ and one of the of the King Salmon (Kathy's) was served as the main course. You can see Dick giving Kathy lessons on how to cook a King, sweetened with Dick's secret marinade.
On arrival to Merrill Field the aircraft pulled into Ace Hangars for fuel and one of the SX-300's throttle cable broke at that exact moment. What a wonderful time for a throttle cable to break, 10 minutes earlier and this plane was going 200 mph over the inlet. This SX-300, owned by Tuck McAtee, was pushed into one of Dick Armstrong's Ace Hangars to be repaired. Tuck's aircraft continued to have a problems as the left mag decided to quit performing. Thanks to Shannon Geary over at Aero Recip, another mag was located and the folks were on their way to Juneau.
The group from Spruce Creek were very happy to receive the assistance from Chapter 42 and I think we showed them some real Alaska hospitality.
Blue Skies,
Mike Ice
Sunset at 23:42
June 20th 2007 - Wednesday
Shannon Gearry
Shannon Gearry By Chuck May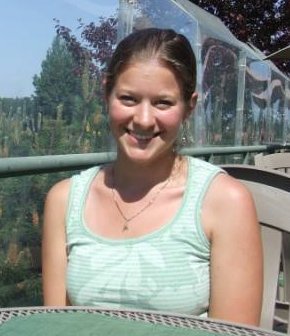 This summer I had the pleasure of having lunch, on the deck at Piper's, with Shannon Gearry. Shannon is the youngest member of our EAA Chapter and by far the most radiant and beautiful member.
While growing up, Shannon's Dad would drive her around Lake Spenard and Hood where he would identify different aircraft to her. Out of high school she won a "Be A Pilot" scholarship and earned her private ticket. A highlight in Shannon's flying experience was to fly a plane from Florida to Alaska.
Shannon attended the University of Alaska at Merrill Field where she earned a BS in Aviation Management. She worked for a small fixed base operation on Lake Hood for a couple of years before going to work for Aero Recip of Alaska as a secretary. Shannon worked her way up to office manager then to parts sales representative. I think Shannon knows more about Lycoming and Continental engines than most of us. She says she has more useless part numbers running around in her head than she will ever need.
Shannon attends the Reno Air Races, Air Venture at Oshkosh and any other aviation events she can. She is a member of the "99's", Alaska Airman's Association and several other aviation organizations. Shannon's dream is to get into airport or airline management. She has been saving for several years in order to earn a Master of Business Administration in Aviation. Shannon recently won a $17,000 scholarship to Embry-Riddle University at Daytona Beach, Florida. Leaving Alaska on July 15th on her way to school Shannon will join family and friends at Oshkosh where they have front row seats for the air show. If you are attending Oshkosh or passing through Dayton Beach you may contact Shannon at her e-mail: sgearry@hotmail.com. She would love to hook up with you.
We will miss her enthusiasm and beautiful smile. We hope someday she will come back to Alaska and be a part of our Chapter again. Shannon asked me to let our members know if they are in Dayton Beach just look her up. She would love to get together.
Chuck May
Sunset at 23:42
August 11th 2007 - Saturday
Seminar on Aircraft Electrical Systems
Where: Morris Communications
Seminar on Aircraft Electrical Systems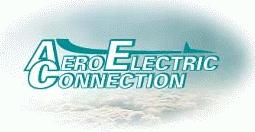 EAA Chapter 42 invited Bob Nuckolls to put on one of his world famous Weekend Seminars on Electrical Systems for owner-built and maintained (OBAM) aircraft on the weekend of August 11-12 2007.
Bob is the publisher of the AeroElectric Connection: The definitive work in owner-built and maintained (OBAM) aircraft electrical systems. 20,000+ readers in 30 countries for 20 years.
We had a great time and learned a lot. Bob stuffed our heads with knowledge all day on Saturday even though he didn't get much sleep due to a late commercial flight the night before. We did some quick planning after the seminar, and Tim Rittal graciously opened his house for everyone to come over for Moose's Tooth pizza and good beer.
Normally Bob only goes for half a day on Sunday, so that he can get back home on Sunday. Bob and his wife Dee were going to spend a few extra days in Alaska sightseeing, so we got an extra couple of hours after lunch.
Big thanks go to Gene Bjornstad for going above and beyond organizing the seminar and hosting Bob and Dee at his house. Rob Stapleton for getting us a place to have it happen, and Tim Rittal for the get together at his place on Saturday.
Sunset at 22:09
September 25th 2007 - Tuesday 7:00 PM
Chapter Meeting
Where: Northern Lights Avionics
The September meeting will be Tuesday, September 25th at 7pm at Northern Lights Avionics.
One of the main topics will be hand-held radios and, most likely, GPSs. Of course there will be plenty of opportunity for other equipment and maintenance questions.
Northern Lights Avionics is located at 940 Merrill Field Dr. at Merrill Field, just south of the old tower location.
Sunset at 19:48
October 23rd 2007 - Tuesday 7:00 PM
Chapter Meeting
Where: Merrill Field
Where: T hanger "I" at 2021 Merrill Field Dr
Dick Reeve has invited us back to his hangar to see the progress he has made on his Lancair since our last visit in January 2007.
Dick's Lancair is in T hanger "I" at 2021 Merrill Field Dr. It is located on the south side of the runway and on the north side of Merrill Field Drive, right across from Aero Map. Dick says a sure way to spot the right place is to look for green dumpster #346. Please park in front of the T hangar and along the east end of the building.
The October meeting is in a rented T-hangar. One of the ways to get a reasonable rental rate is to waive any rights I or my insurance might have under a legal theory known as Hangar Keeper's Liability. My landlord and I have both been in the airline business. The waiver makes sense to both of us who have shared hangar space to help out a friend.

On this basis, we have agreed that each of you is my 'guest' and that I am solely responsible for anything that may cause you harm. There is no recourse through the hangar's owner...Period. Each of you is cordially invited if you agree that your presence as my guest is without recourse to the landlord. If you don't agree, you're not invited...Period. This is a crummy way to frame an invitation, but that's the way it is ...
Sunset at 18:22
October 28th 2007 - Sunday
Stolen Floats
I had a misfortunate event happen and I would like to have our members aware of it. I had a set of EDO 89-2000 floats stolen from my tie down around 9:00 / 9:15 am Friday, the 19th. of October 2007. Lake Hood Space #87 (2 spaces west of the Aviation Museum)
A witness saw a white male, with a medium build, loading them onto a snow machine trailer hooked to a dark colored (green?) mini pick up (Ford Ranger / Nissan?).
Another witness saw this (or similar) pickup with a set of Edo 2000 floats on a snow machine trailer turning left from Postmark Drive onto International Airport Road about the same time. They were later spotted on the Glen Highway, northbound, north of the Knik River bridge. I have a reward for the safe return of these floats - No questions asked!
These floats are rigged for a Producer or a Pacer, so they are either going onto a shortwing, or someone may be trying to get rid of a set of struts for a shortwing, and looking for a set of float struts for something else.
Steve Bryant 907-242-9074, home # 243-6110
Thanks, Steve
Sunset at 18:07